THE MIAMI HERALD
SUNDAY, MAY 20,1990
In an eccentric English pub on a hard scrabble Little Haiti street, Miami's rock and roll heart is beating loud and strong. Other rock clubs have better locations, classier decor, more flattering sound systems. But if the rock music of tomorrow is being born in Miami, there's a good chance the scruffy dive called Churchill's Hideaway will be the delivery room and a 49-year-old Englishman named Dave Daniels the midwife. "I remember going to see the Beatles at the Cavern Club in Liverpool in 1963 and thinking, 'Someday I'd like to run the kind of place where a band like that could get it's start,' "Daniels said. Whether that happens this week or next year, area musicians and rock fans agree Churchill's is a mighty fine place to wait...
...On a recent Thursday, the three members of Scraping Teeth unleashed such a vigorous barrage of screaming, howling, electric guitar rage that the crowd of about 30 quickly adjourned to the sidewalk outside. Why does Daniels let them do that? "Well, to some people the Beatles sounded pretty raucous when they first appeared, too," he said with a wistful smile.
---
BEST CLUB FOR ALTERNATIVE MUSIC
Churchill's Hideaway - 5501 NE Second Avenue Miami
If rock and roll (as opposed to pop) is alternative, this space wins hands down. But Churchill's does more than rock --- there are regular folk jams, as well as acts that can't really be classified. And then there are Thursday nights, during which, over the past year, Frank Falestra (producer, musician, and all-around cool cat) brings together such acts as Tina's Dirty Girl Revue, Scraping Teeth, Poetic Injustice, Quit --- you never know who will show up, and sometimes it's as many as nine groups. These presentations are off-the-wall, one giant step beyond alternative.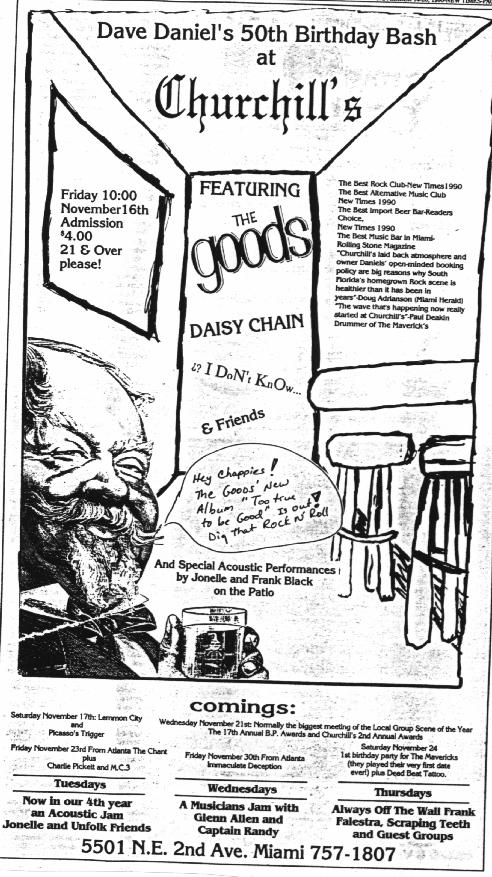 ---
..

Set Fillers
Forget the conferences, the award shows and all that competitive hype. Let's talk true honor and merit. It seems that Miami's Rat Bastard, aka Frank Falestra and his band Scraping Teeth have won the dubious distinction of being named the WORST BAND IN AMERICA by Spin magazine, to be announced in March issue. This was a fierce competition of close to 1,000 bands that submitted tapes and kits. "We knew we would win," Frank said. "There's no one more offensive than us." I can vouch for that. Last time I saw these guys at Churchill's Hideaway, I was never more thankful for a back patio in my life. Like a dentist drill on a blackboard, this band gives new meaning to the word nerve-wracking. Look for a CD deal, tours, video, Wayne's World appearances and more. We're proud of you, boys. Keep up the bad work.
---
Scraping Teeth's weekly gig at Churchill's is sort of a farewell this Thursday. Members Isaac Ersoff and Dimthingshine are both going away for the summer. Whether Teeth will bite the dust is up to leader Frank Falestra --- who knows what this guy might do at any given time? Sorry, but we're not going to make up weird stories about what members of Scraping Teeth are doing. Getting out of Miami in the summer is maybe the sanest thing Ersoff and 'shine have done lately.
---

Click to go back.