Miami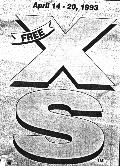 Fort Lauderdale
Quick, call the sheriff!
To The Editor:
Re the Nov, 20 Living Section article about the Expo-Mental Sub-Sound series: This is a joke, right? I know that it is Herald music writer Doug Adrianson's job to report on the sessions, but I'll bet that Dave Berry compiled the schedule of events. Who else could come up with such names as "Scraping Teeth," "Insanity Assassins," and my favorite, "Pig Spit"? Where is Broward Sheriff Nick Navarro when we need him? -- Patricia Logan, Davie
---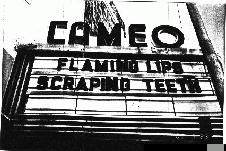 Isaac and Resa Ersoff, of Spongong infamy, posted a card from California to say, "California sucks!" and to drop this news: "Spongong was offered a deal, but they'd only give us a million-dollar advance, so I told 'em to fuck off." Gotta love the integrity. Meanwhile, I've laid hands on a Scraping Teeth cassette --- Teeth is made up of Isaac Ersoff (bass), Rat "Frank" Bastard (guitar), and Dimthingshine (drums). It's solid, almost crucial, antimelody music, full of grinding chords, dirgy beats, and wild vocals. It's custom-made for anyone who only likes bands that no one else likes. Titles include "Death by Refrigerator," Torture and Stuff," "Mary Had a Fucking Goat," and "Life Without Soap." Write to EE Music, Miami or check out the areas more adventurous record stores.
---
Expo-Mental: music without limits by Doug Adrianson - Miami Herald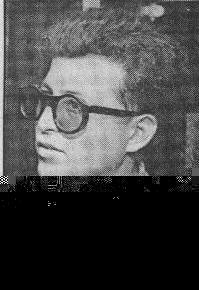 Even as Milli Vanilli blurs the line between "live" and Memorex, Edward Bobb and Frank Falestra are out to shatter the boundary between "experimental" music and the mainstream. Bob and Falestra are the organizers of the fourth Expo-Mental Sub-Sound Series, which opens tonight at the Cameo Theater. The series will present 19 unique musical and multimedia events in 13 days at various locations, mostly in South Miami Beach. Like the three previous Expo-Mental series, this one will feature performers at the opposite and of the aesthetic spectrum from the sugary pop of Milli Vanilli (or whoever the heck sang those songs).. Bobb developed his cutting-edge reputation as a leader of the avant garde electronic group Happiness Boys; Falestra is one third of the aptly named Scraping Teeth, whose improvised-cacophony sessions at Churchill's Hideaway (on Thursdays) and Washington Square (on Wednesdays) can provoke either emotional catharsis or Triple-Tylenol headaches.
Musical acts include: Vivante Tableau, King Felix, Scraping Teeth, Spongong, Joeseph Brock, Prom Sluts, Watt, Johnny Zhivago, Dada Kalimba Orchestra, Dimthingshine, Isaac Ersoff, Resa Ersoff & Fem-Mental, Eric Fish, the Goods, Ordinary Language, Quayle, Chameleon Circus, Marylin Manson & the Spooky Kids, Septic Leakage.
---
NEWSWATCH
Wanted: bass player
Scraping Teeth, a band with members in Pembroke Pines and Miami Beach, is looking for a new bass player -- no talent required. Spin magazine this month named the band the absolute worst in the nation, the "Cream of the Crap" as they put it. band members never took lessons, never rehearsed and don't bother to tune their instruments. Their songs include such notable non hits as "Blow Me While I Shit"," "Death by Refrigerator" and "Mary Had a Fucking Goat." No wonder bass player Isaac Ersoff moved to Oregon, leaving drummer James Rite and guitarist Frank Falestra looking for a third. So how does the band react to winning? "I feel like I just won something on the 'Dating Game,'" Rite, of Pembroke Pines told Spin. "I hope my screams had somethings to do with it."
---

Click to go back.