Rat Bastard's

TLASILA Chronicle
Self promotion is obsolete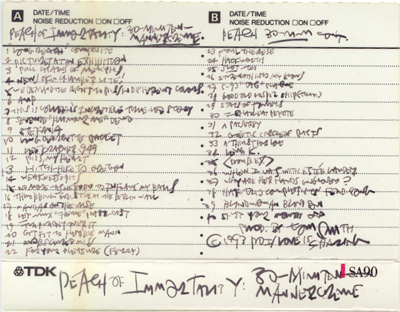 In 1991, Tom Smith befriended South Beach local Frank "Rat Bastard" Falestra. Falestra offered to help record and mix the Peach of Immortality studio recording "Spatters of a Royal Sperm" in Nov-Dec 1991. Next Peach of Immortality "30-minuten männercreme" was assembled from January 1992 to November 1993. While recording the two quickly set about crafting a new sound based on a mélange of the former love of musique concrète, dub, '70s glam, free-improvised music, and the works of a variety of transgressive authors and filmmakers. Contributions of a handful of guest musicians (including L'Trimm's Tigra DeRougemont, Tracie Phillips, Oscar Perez, King Felix and Harry Pussy's Bill Orcutt and Adris Hoyos). In 1993 Smith asked Falestra if he was interested in starting a new group(1) by first dropping the Peach of Immortality name on "30-minuten männercreme" recording and releasing it under the name "To Live and Shave in L.A". The name was inspired by a Ron Jeremy porno parody of the film To Live and Die in L.A. They will also use the TLASILA name for the next recording and live performances, Falestra foolishly agreed with one stipulation that the next LP will have to have a new approach to recording. In late 1993 both started performing live at Churchill's and recording the next LP "Helen Butte" vs. Masonna Pussy Badsmell a release where Falestra to this day was not given proper credit for his recording and mixing work. 1994 saw the release of their first compact disc, 1994's 30-minuten männercreme, and the addition of Oscillator player Benjamin Wolcott. This line-up recorded everything from "Helen Butte" vs. Masonna Pussy Badsmell to "The Cortége". Falestra let Smith spend the down time hours in his studio so Smith could mix the 3rd LP "Vedder Vedder Bedwetter" which became Smith's least favorite Shave album. Falestra, of course, held the opposite point of view. This was the first time TLASILA were able to recycle their own live performance recordings plus it included Don Fleming's recording at Waterworks in NYC and radio and live performances accompanied by Weasel Walter and Nandor Nevai from the 1996 tour. A flood of recordings followed, many of which would not be issued until years later. TLASILA were acclaimed as the most literary group to arrive on the avant-garde rock scene, they made no effort to dilute their lyrics or soften their approach. Falestra was an experienced audio engineer and guitarist-bassist with both manic technique and a penchant for throwing his instrument into the crowd. Smith wrote the lyrics, developed the sonic collages which served as the band's backdrops, and matched Falestra's stage aggression lurch for sybaritic lurch. They were initially associated with Miami's burgeoning noise-rock scene of the early 1990s, but neither To Live and Shave in L.A. nor their contemporaries could be so easily labeled.

After two U.S. tours in which transportation was supplied by Wolcott and Falestra, and the Tora Tora Tora! festival in Atlanta, Wolcott departed the group in 1996 due to personal conflicts with Smith. Wolcott went on and joined another Miami group, Frosty. TLASILA as a live entity weathered numerous changes. Following a pair of European tours featuring Smith, Falestra, Nandor Nevai, Billy Taylor, Greg Chapman, Julien Betcourt and Andy Bolus. To Live and Shave in L.A. returned to America with their "PRE (R)ocktober 1999" tour, featuring a newly expanded roster that included Weasel Walter, Nandor Nevai, vocalist Liz "Misty Martinez" Armstrong. In 2000 Falestra introduced Smith to Gerard Klauder the proprietor and operator of The Smack Shire Label in which A&R creative consultants included Nondor Nevai & Smith.

The quintet split up following the NYC Beer & Sausage festival appearance in 2000. Walter, Nevai and Armstong split from TLASILA due to personal and financial conflicts with Smith. Walter, Nevai and Armstong set up small tour as To Live and Shave in L.A. 2 and invited Falestra to go along. Falestra went ahead and joined To Live and Shave in L.A. 2 only because it would look as if they had thrown Smith out of the band. Angered with Falestra's decision to tour with TLASILA 2 and other clone bands, Smith tried to call a halt to the project in 2000 but the whole thing became a joke followed by a slew of clone releases and performances. Afterwards, Smith formed the ensemble OHNE with Swiss performance art provocateur Dave Phillips, German noise-core musician Daniel Lowenbrucke and Swiss laptop specialist Reto Mader in 2002.

In 2002 after 5 years of Smith mixing and editing TLASILA's two-disc set, The Wigmaker in Eighteenth Century Williamsburg, it was released. Wigmaker received wide acclaim, landing at the top of many critics' best-of lists, and setting in motion a reconciliation between the group's founders.

Falestra and Smith decided to revive To Live and Shave in L.A. during the mastering session for "God and Country Rally" in Miami Beach on December 30, 2003. Falestra suggested that TLASILA should perform at Carlos Giffoni's No Fun Festival (which took place in Williamsburg, Brooklyn, in March 2004). After No Fun TLASILA assembled what many observers claim to be the best line-up in the group's history. Respected guitarist/producer Don Fleming (friend of Smith's since the mid-1970s in Adel GA) and Mark Morgan of New York's Sightings. Multi-instrumentalist Andrew W.K. joined the band in April 2004, and Ben Wolcott signed back on in late July 2004. Chris Grier was brought in by Don in August 2004. An archival disc (God and Country Rally!) and tour followed in September 2004. Their next studio album, the W.K.-Fleming-Smith produced Noon and Eternity (recorded at Sonic Youth's Echo Canyon facility in New York, and featuring performances by Thurston Moore).

TLASILA debuted the Noon and Eternity material in the nation's capitol in January 2005 at The Black Cat, at the Moore-Grier curated Noise Against Fascism festival, which featured like-minded artists such as Paul Flaherty & Chris Corsano, Kim Gordon, Nate Young and Twig Harper, among others.

In Aug-Sep 2006 a tour of Canada and a pair of shows New York City in support of their "chronological remix" compilation Horoscopo: Sanatorio de Moliere. Graham Moore was invited to lend his talents in August 2006.

Weasel Walter performed with TLASILA again during the collective's April-May 2007 tour of the States in support of their Les Tricoteuses collection. Liz Armstrong rejoined the group on that excursion as well. Andrew Barranca joined in May 2007.

Liz Armstrong and Nandor Nevai recorded and performed with TLASILA in August 2007 during the sessions for "The Cortége" album. Also former Peach of Immortality Mark Shellhaas, Kelly Jamison and Scraping Teeth drummer Dimthingshine also were included in the sessions. Graham Moore-Fleming-Falestra produced "The Cortége" (recorded at Sonic Youth's Think Tank facility in New Jersey) was mixed by Graham Moore and Falestra in Miami Beach in December 2007 and by Don Fleming in November 2008.

Smith was presenting the group under web sites contaminating it with his own personal matters, opprobrious opinions and nonnative music projects in which did not represent the views or music of the other members in the group. Smith had planned a TLASILA Europe tour in April-May 2008 knowing full well that Falestra had already planned a tour the entire month of April with the Laundry Room Squelchers and Ben Wolcott just returned to work after a long union walkout. Smith was asked not to use the TLASILA name on his personal tour of Europe but he went ahead and did it anyway ignoring the other members request in order get better venues and attendance.

(excerpts of this chronicle were taken from past TLASILA interviews by Smith in Wire and Blastitude)

(1) Let me make this perfectly clear I would never have joined any pre-existing band of Tom Smith's. To Live and Shave in LA started as a new band between myself and Tom. All other previous live performances and recordings were all presented under the names Tom Smith or Peach of Immortality (note the year on cassette cover photo on top of page). Tom used the same name from a demo project from 1990 which had nothing to do with the band other than it was a title he always wanted to use for a music project. In fact I never even seen or heard any of these tapes. We started recording at my studio in 1991 and the band was established in fall 1993 at Churchill's Pub.





Loop 1
Loop 2
Loop 3
Loop 4
Loop 5
Loop 6
Loop 7